You would either have to be new to the industry or under a rock to not notice how the SEO industry has become more corporate over the past 3 or 4 years. The trend has been slow and gradual with many small steps, but I thought it would be a good idea to try to put the pieces together. What started off as a 5 minute project took a couple hours. I hope you like it! If you are a creative thinker you should be able to get a number of actionable ideas by thinking about how such trends will change your market.
Warning: this image is big! ~ 225KB
http://www.seobook.com/images/corporate-seo.gif
This is sorta a high level document which looks at many existing and emerging trends and how they combine to change the landscape. A lot of small businesses and small online publishers are feeling the following trend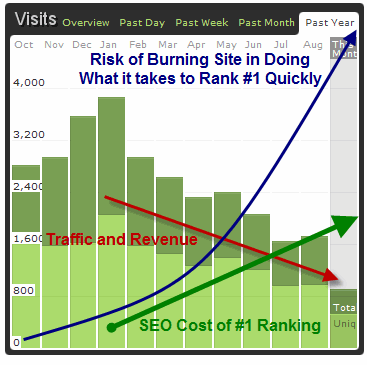 In a recent comment on a blog post about link buying Google's Matt Cutts stated:
Personally, I believe the reason that so many people come to Google is that for the last decade, we've worked really hard to protect our users and return the best search results. When other search engines showed pop-up ads, Google didn't. When every other major search engine offered pay-for-inclusion into their search results, Google didn't. And Google has taken strong action to protect our users from spam, malware, and poor-quality sites. I think part of Google's lead (and brand loyalty) in the search space is because we've taken strong action to protect our users.
Sure I think they try to protect people (and do a good job), but I never really see the bits that are inaccessible, so I don't know what I am missing. In time I do wonder if you could have too much media consolidation due to favorable reviews of "too big to fail" brand companies while smaller competitors are flushed away for using similar marketing techniques.
To the best of my ability in the above linked image I tried to explain why SEO outing is bad in how it influences the entire search engine optimization, search, and online media ecosystems. If I had to shorten it down to 3 points, those would be...
Outing limits media diversity. Media plurality is important, but it is something that Eric Schmidt doesn't get. And it is often the independent types who have the editorial freedom that enables them to highlight major fraud. Some media channels are so driven by advertiser interests that they fire employees who dare to mention risks in advertiser's products. (And I would rather pay a bit more to not drink poisoned milk!)
Outing harms small businesses while corporatizing the web. Historically most economic innovation has come from smaller companies. Microsoft was once a small company. And so was Google. ;)
Outing drives down the earning potentials of many SEOs and will eventually force many independent SEOs into low paying in-house SEO jobs. Most societies operate on a debt-based money system where debt slavery controls many decisions. The ability to be self-employed, do what your passionate about, and operate outside of that system should be cherished by anyone lucky enough to not have a boss.
Google's Eric Schmidt claims that "brands are how you sort out the cesspool." Brands take money to build, but they are bought and sold just like anything else - only they require more capital and/or more insider connections to buy.
You know those damn bankers who bankrupted their own companies through the use of leverage and predatory lending? And then the same people lied, cheated, and looted trillions of Dollars from United States tax payers to save their companies (and pay their bonuses)?
Well they are not only leading media advertisers, but they now own a HUGE chunk of the traditional media sphere:
One wonders why Goldman and JPM were so eager to provide "rescue" financings to virtually the entire distressed media space: both companies knew too well that sooner or later they would end up with full equity control over essentially the most coveted industry: thousands of TV stations, radio channels, newspaper and magazines. If you thought the media propaganda was unbearable now, just wait.