Compete takes pricing to a different level but has some unique features as well. They have a few different pricing levels but to get all the features you need to dial it up at $499 per month. Although, some of their lower price points may provide good value depending on what you might use them for.
Compete Site Profiles
Here is how compete gets their data.
Here is a screen shot of their site profile overlay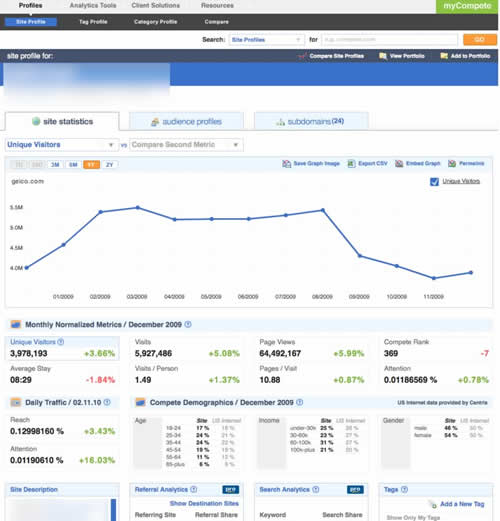 It's kind of like a semi-analytics program view of things which includes:
Unique Visitors
Page Views
Average Stay
Demographic Info
Link through's to Referral and Search Analytics (discussed further down)
Data is available in 7 day, 30 day, 3 month, 6 month, 1 year, and 2 year increments.
The audience profile tab is similar to quantcast and is only available to the verified site owner (unless the site has made it's info public) and the sub-domain tab shows sub-domains associated with the main domain.
Enterprise users, where there is no standard pricing listed...also get access to category profiles and behavioral categories as shown below: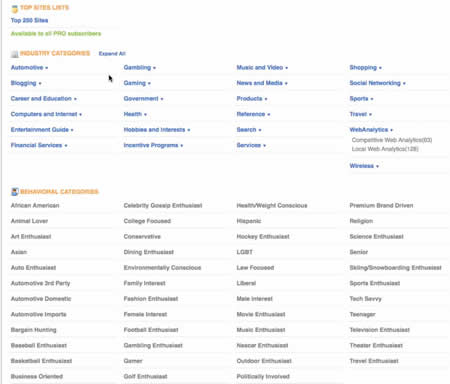 You also get the option to compare up to 5 sites at once in their site profile section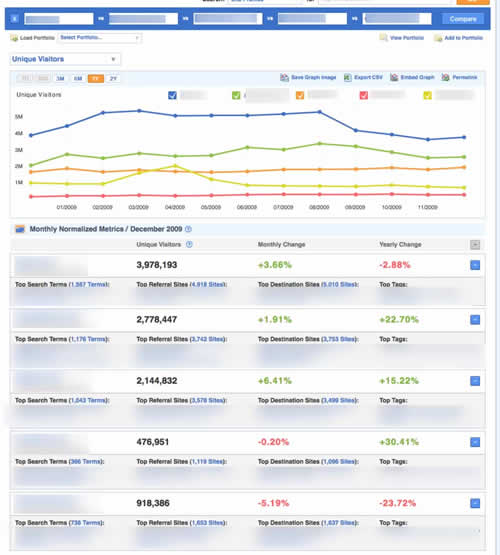 Those are the options in the profiles section. These statistics are far beyond what most traditional spy tools offer and can be very useful when comparing large sites as small sites do not fare very well with these types of data sets (this is not specific to compete, it's pretty much industry wide).
Analytics Tools
Compete's second tool set is the Analytics Tools set. Here you can search through Search Analytics (keywords) and Referral Analytics (sites referring traffic to the domain) as well as a variety of Ranked Lists.
Referral Analytics
This is pretty sweet as you can see what search engines the site's SEO campaign is doing well in, as well as possible advertising opportunities for your site.
It also will show you Destination sites (where users go after landing on the site you are reviewing.)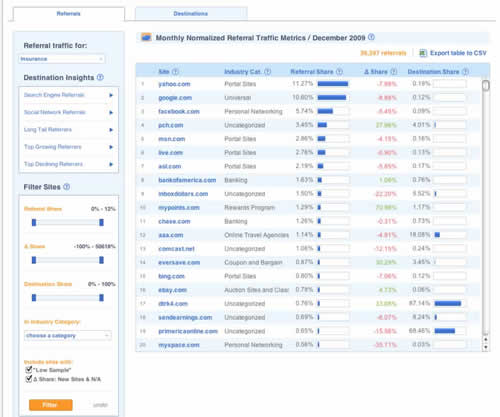 In addition to messing around with some of the filters you can take a peek at historical data (trends, seasonal, etc) as noted here.
Ranked Lists
Compete offers ranked lists which you can filter in a few easy steps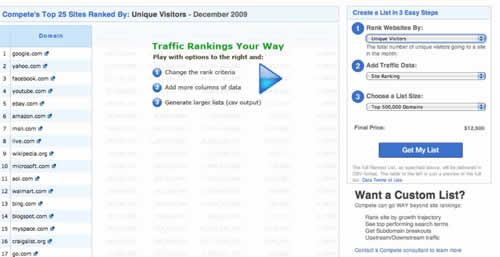 Compete lets you look at ranked lists via 3 steps (one from each)
Step 1 - unique visitors, visits, page views, time spent, monthly attention
Step 2 - site ranking, ranking + unique visitors, ranking + all metrics
Step 3 - top 200, 1,000, 15,000, 100,000, 500,000 domains
Search Analytics
Compete's Search Analytics show keywords referring traffic to a site (or two) with some pretty neat metrics:
Highly Engaging Keywords - Keywords that make up 40% of the total time index and have a referral share greater than 0.01%
High Traffic Keywords - Keywords that make up the top 40% of the search referral share
Paid Keywords
Natural Keywords
Engaging Long Tail Keywords - Keywords making up the bottom 60% of search referral share, with a total time index of > .10
Enthusiast Keywords - Keywords that make up the top 40% of Average Time Index and a Search Referral Share greater than 0.01
Long Tail Keywords
Total Time Index - scale of 100 with 100 being the term where the searcher came from...that made up the highest total time spent on the site for ALL visits.
Average Time Index - scale of 100 with 100 being the term which resulted in the most average time per visit spent on the site.
You can also compare 2 sites like so: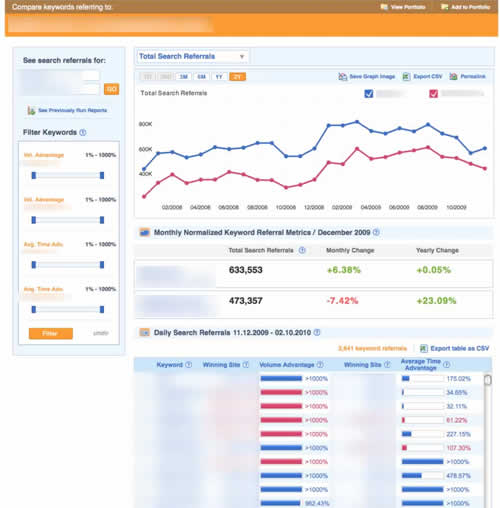 In Closing
The high price point of Compete might scare some users away, but consider that their data is not just relying on scraped Google/Yahoo/Bing results then extrapolated by some internal metrics. Compete is probably more useful to those who "compete" in really competitive markets with some sites as competition, although it can be useful to folks who may be involved in less competitive SERPS with smaller sites as competitors because they can use this data to investigate larger sites in their market, which may not be competitors but could yield helpful industry data.