Fake Businesses
Today I came across an AdWords ad for an automated ebook business model website. Their screenshot highlighting their Paypal account was:
hosted on another site
named powersell_paypal2.jpg
did not show payments but showed withdrawals
Fake Business Statistics
A lot of (mis)marketing techniques are more covert though, through the use of
syndicating bogus stats from third party research
Fake / misleading research is remarkable, so it is more likely to be cited, and recycled by people hyping similar business interests. A while ago MarketingExperiments did social media marketing research which was not really research, and yet those false stats promising social media goodness just appeared again: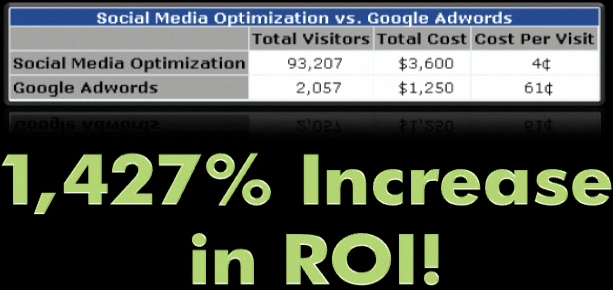 Claiming that the above ROI is 1,427% higher is at best dishonest. You can teach the value of something without syndicating lies as truth.
Social Media Traffic Does Not Buy
Want to know the truth about most social media traffic? Its garbage. Some of my AdSense ad campaigns use an affiliate account to track ROI. Until I filtered them out for poor performance, MySpace and Digg were providing about 90% of my overall affiliate ad volume with 0 conversions, whereas some of my better affiliates make a sale a day or a sale every few days on far less traffic.
I know that was an isolated example and it would be unfair to judge the entire market on that, but consider this...those ads had a horrifically low clickthrough rate and still only cost a dime a click. If I was getting a lot of volume on a network that size while bidding next to nothing then that ad inventory is not worth that much. Simple as that.
Some Top Publishers Are Afraid Social Media Marketing
Some leading publishers are even worried about deflating their CPM by getting to much lousy social media traffic.
Comparing Social Media to Direct Navigation
Why do you think domainers make so much money without even needing to develop websites? For a person to end up on a parked page they have a lot of implied intent in their location. The same is true for a search result. If you just searched for something you have implied intent. Google is worth 200 billion and I am not. :)
For all the hype Facebook ad system has got, there is limited value in their user data:
Google actually knows all of that, and at least 10X more data about users than Facebook, but hasn't seen the need to really mine the data yet, since search intent has proven to be worth about 100X more than that kind of data so far.
If social marketing gets you clean links it is great. If people recommend your product to their customers that is great. I get mentioned on Seth Godin's blog and sales double. I make the front page of a social news site and nothing happens. Most of the social media hype is hollow and without value.
Put Social Media to the Test Today
Still don't believe me that most social marketing traffic is worthless? Ask yourself why StumbleUpon only charges 5 cents a visitor for any category - including big money categories like daytrading, gambling, and financial planning.
If the successful secret marketing strategies that send 4 cent traffic are buzzworthy then they could at least have the decency to tell me I can get the same thing for a nickel with no effort.