Originally Link Diagnosis was a fairly well received free link analysis tool. But since its launch its role in the SEO game may have quietly changed.
While surfing around the SEO space I checked out the iAcquire white paper, which explained that they own LinkDiagnosis. iAcquire, which claims to be a corporate link building tool, apparently states that they use your research to service their clients. See the following image from their report!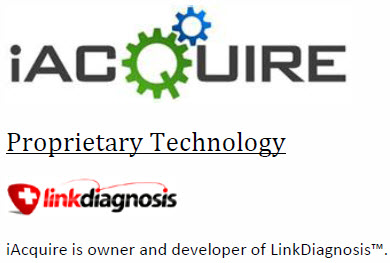 John Andrews has warned against using tools for link builders by link builders, and highlights some of the related dangers
Now a well know link building service provider is offering a tool for managing link building. Part of the pitch is that only a professional link builder really knows how to build a good link building tool. I don't disagree… but I do think the last person I want to share my link building activity data with is a professional link builder.

Just think of how valuable your link building activity data would be to someone in the link building business! That service will aggregate a vast database of places people get links from, people (webmasters) contacted for linking purposes, and perhaps even the costs of links negotiated. Wow… what a great resource for a professional link builder to data mine.
Is iAcquire Text Link Ads 2.0?
After selling Text Link Ads to MediaWhiz, it appears that iAcquire might be TLA 2.0.
Consider the following:
It is using anonymous domain name registration and the website doesn't list any names, which is weird for a site which claims to be founded by an elite group of SEOs experienced in serving big brands (as big brands would probably want to know *who* they are working with)
It is recommended by Andy Hagans on his personal site, and Andy generally wouldn't recommend anything without being paid to do so (after all, right after the link Andy wrote "I don't plan to actively blog on this site or anything, but I want to use it to link to the existing projects in which I'm invested.")

the angled blue design on ReviewMe & LinkDiagnosis look similar, indicating that perhaps the same designer may have been involved in both projects, or that at a minimum the later was inspired by the former


on CrunchBase it states that at least 1 former TLA employee is involved with the project, as referenced in the following image quote
The TextLinkAds brand and website were crushed by Google, and yet many of the people involved with it (who sold it off right before it got penalized) have gravitated to a new brand of link brokering, whilest the old site remains penalized.
How long before Google starts honing in on this segment of the web the same way they honed in on the Text Link Ads network? If you are using a free tool to hunt for linking opportunities and the company that owns the tool is using your labors to hunt for link opportunities as well, are you perhaps wasting some of your time? Are you competing against yourself by handing tons of data over to websites with strong domain authority which only need to replicate a few of the links you get to beat you? Might it make sense to pay a few pennies to use something more trustworthy which won't harvest the fruits of your labors and use them against you?
Take a second look when looking at a lot of the free stuff online. Something that at first glance seems altruistic might have ulterior motives and hidden costs which only appear later, when a brand new competitor comes out of nowhere! And it is even worse when you are funding them with your market data and ad Dollars.