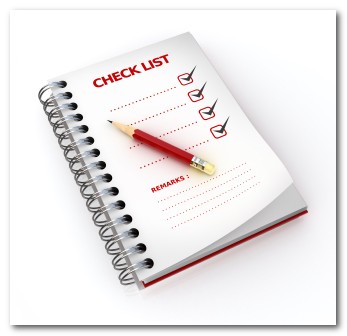 Everywhere you look on the internet, there are people who try to convince you that marketing success can be reduced to a formula.
Get rich quick ebooks are a classic example. Hand over $97, follow the guaranteed steps, and you'll get the exact results the author claims. Yes, you, too, will be able to hold up a huge, comedy check, featuring lots of zeros!
SEO forums are filled with questions that presume prescriptive answers: "what keyword density should I use?", "How many links do I need to rank #1?" "How many words should I have on a page?" "How many outbound links are too many? "
Unfortunately, a successful internet business can't be reduced to a simple, paint-by-numbers prescription. If it could, those e-books would be selling for a lot more money, and nobody would be giving away tips in forums.
Paint-by-numbers marketing produces a facsimile of where someone has already been, but the market has long since moved on.
Take A Holistic Approach
The way to approach internet marketing is to do so in a holistic manner.
Once you understand the underlying philosophy of various tactics and strategies, you'll be more likely to apply them successfully, and adapt them to devise new strategies.
There are underlying patterns common to the most successful sites. Once you identify and and internalize these patterns, you can easily out-maneuver any competitors who may be locked into a more inflexible, prescriptive approach.
Bad Artists Borrow, Great Artists Steal
That quote is often attributed to Pablo Picasso. What I suspect he was getting at is that bad artists copy surface techniques. Great artists, on the other hand, get inside an idea. They internalize it. Then they innovate to produce something genuinely new.
For example, many people will advise you to start a blog.
Whilst that might have been an attention-getting idea in 2001, starting a blog today isn't worth remarking upon. Blogs generated a lot of attention early on because they provided an easy way for people to become citizen journalists, and the writing style was somewhat new, at least in when compared to conventional journalism.
Blogging used the personal voice of the opinions pages, as opposed to impersonal voice to the reporting pages. Blogs also provided immediacy in the days before Google News. Twitter has now leap-frogged blogs and news outlets to provide that very function.
These days, the biggest sites on the internet use nothing but the personal voice i.e Twitter, Facebook etc - and the barriers to producing content are very low. Anyone can publish web content. So the blogging Cluetrain has long since left the station.
Instead of copying the format - the surface - try to provide the type of information people want. That's where the idea for blogs came from. That's where newspapers came from. They solved an information problem for people.
One trend right now is social networking, but this results in a shallow surface of unreliable information. There is a growing flight to quality information, which people will pay to read. Some of the best information on the web is now being locked up behind pay walls.
Ask yourself the fundamental questions. What need is your site serving? Is that need changing? Where will your sites audience be in six months or a years time?
That's where you should aim now.
The future is where Google focuses their efforts:
We started with the early-adopter crowd. That was on purpose. We wanted to build a product for people who were getting hundreds of e-mails a day, because we believe by focusing on the power user, you're designing the product the rest of the market will want in a couple years when everyone's usage habits catch up to the most active users.
Barrier To Entry
When some guru tells you "a secret" - i.e. to get into mobile ring tones - he's safe in the knowledge the area is already saturated and he has moved on.
Once you see that sort of information published in the public domain, it's too late. The horse has bolted. But he will still tell you the market is ripe and that you should sign up under his affiliate link. Even if you lose money he still profits from your efforts. You are the key ingredient of their wealth generation formula, you just don't know it yet. ;)
One good way to evaluate the worth of such prescriptions is to evaluate the barrier to entry. A barrier to entry is some condition that makes it difficult for late entrants to enter a market. An example of a barrier to entry would be, say, the start-up cost of an airline. The capital investment required is significant, which disqualifies most of us ever starting one.
On the internet, if anyone can copy a technique cheaply and easily, then it almost certainly won't work. Once a technique is out there, too many people will copy it, which dilutes the market to the point where it fast becomes uneconomic. Do you think starting a blog today and running Adsense on it will make you money? It might, but it will also require a lot of work, luck and a significant point of difference. Without those fundamentals, it will remain unread, and is highly unlikely to make money.
So look for areas that have a barrier to entry. Do you have an established brand you can leverage? Can you partner with someone who does? Can you spot a niche where none of the players are spending much? What happens if you throw some money at it? Do you have a means of grabbing attention that other people don't have?
What is your point of difference? And can you make it defensible?
Steal A Business Plan, Apply It To A Different Niche
In the financial world, investment firms often use forensic accountants to deconstruct the tactics and strategies of their competitors.
One famous example is Harry Markopolus, who worked out that Bernie Madoff was running a Ponzi scheme. Markopolus bosses wanted to learn how they could match Madoff's double-digit returns. He was assigned to deconstruct Madoff's strategy to see if he could replicate it.
If you've found a new niche, try applying a model that has already proved to be successful in another niche. Deconstruct the features, tactics and philosophies of the successful site, and either go head to head, or even better, apply those same strategies to a new niche.
For example, one characteristic common to many successful sites is that they were first movers. They were in the niche early enough to command attention simply by existing. Can you slice the niche you're in even finer in order to be seen as a first mover?
You could also try the same idea in different geographic locations. TradeMe is a New Zealand version of Ebay. New Zealand is a tiny market, but TradeMe recently sold for $700 million, mainly because it was a big fish in a small pond. The business idea was the same proven idea as Ebay, simply applied to a different regional niche.
Show Leadership & Connect People
As Seth Godin notes, what works today is leading:
Leading a (relatively) small group of people. Taking them somewhere they'd like to go. Connecting them to one another....a tiny sliver of the market is enough. Bill Niman used to run Niman Ranch, a cooperative raising meat for fancy restaurants and markets. That was already a sliver of the huge huge market for meat. He moved on to start BN, a 1000 acre farm raising goats for a subset of that subset. It's enough. It's enough if the tribe you lead knows about you and cares about you and wants to follow you.....go down the list of online success stories. The big winners are organizations that give tribes of people a platform to connect.....People want to connect. They want you to do the connecting.
If you look around the search niche, you'll find the biggest sites have very clear leadership. These sites also serve as connectors for the community. The least significant search blogs follow others and repeat information. But the audience doesn't want that. Someone who follows the followers isn't valuable to them.
You don't need to pull in a big community, you simply need to lead whatever niche you happen to be in. Look for ways you can carve out you own leadership niche, then connect people within that niche.
People want to be led. They want someone to follow.
What can you teach others? What can you help them to do? How can you connect them to each other?
Published: April 2, 2009 by
A Reader
in
marketing