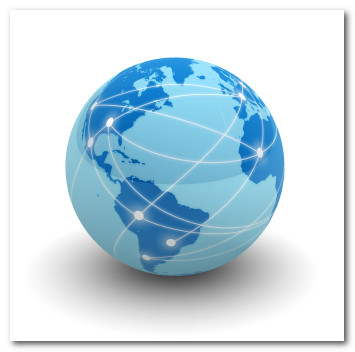 Do you know anyone who got their rankings back after Update Panda trashed their site?
There may be some, and there may be some people who get their rankings back eventually, but the problem is a fundamental one:
If the Google dragon flicks her tail in your direction, and all you rely on is rankings, you're screwed
That's life in SEO. Google flicks her tail, and some webmasters may never be heard from again. The solution to this problem isn't to hope and pray the dragon won't target you. The solution is to acknowledge that the dragon has the power to make your life miserable, and figure out ways to avoid that pain in future.
Develop Real Networks, Not Just Link Networks
Links are the arteries of the web. Traffic flows via links, be they PPC, hyperlinks, or Facebook friend requests.
Of course, SEO's worked out some time ago that hyperlinks have another value. Google uses links to "keep score". To paraphrase, if you have a lot of "good quality" links pointing to your page, Google gives you a high score, and rewards you with a high ranking.
This way of thinking can cause problems.
If our link building strategies only relate to ranking, and not link traffic, then we're vulnerable to changes in the way Google keeps score. If, however, we look at link building in terms of traffic, arriving via those links, then we're less vulnerable to Google's whims. If, for whatever reason, we are no longer ranked well, we'd still have traffic flows via the links.
This is not to say link building for the purposes of ranking is redundant. Google's not that clever. Yet. However, if we're overly focused on ranking, which is one form of traffic acquisition, and not spreading our traffic acquisition methods, then it leaves us vulnerable to Gogole's ranking methodology, over which we have no control.
What Is A Link?
A link is a connection between people.
Remember the six degrees of separation? The idea that everyone is approximately six steps away from any other person on Earth, so that a chain of, "a friend of a friend" statements can be made, on average, to connect any two people in six steps or fewer.
The connection on the web is more like one-to-one, especially when you can "friend" the President Of The United States on Facebook. Well, one of his staffers, but you get my drift :)
We're not that far away from other people.
The ability to connect with anyone on the web, in one step, is profound and powerful. Once connections are made between people, stuff happens. The stronger the connection, the more great stuff can happen. But this doesn't happen if we just view a link as a means to get a high ranking. We miss the opportunity to build something with greater staying power:
Real relationships.
And if you believe the pundits, Google will be looking more carefully at real relationships, as opposed to the...cough..."manufactured" kind, in future.
Techniques & Strategy
Here a few ideas on how to add another layer to your link building activities.
1. Identify The Top People In Your Niche
Who writes about what you do? Think reporters, bloggers, forums, industry leaders, pundits and conference organizers.
These people are also highly likely to link to you, if you give them a good enough reason. A good enough reason is unlikely to be "I've linked to you, so please link back". Remember, our aim is not just to get links, it is to get links that produce traffic, too.
A good enough reason is that you interest them. In order to do that, you need to learn a bit about them, such as what they've linked to in the past, and why. What are the current hot topics? Industry talking points? Where is the industry heading? Make a list of the top ten ranking sites, trace their back-links back, and see who is talking about those sites, and why.
2. Give Forward
Link out to them.
Linking to someone is a great way to get on their radar. Do you follow your inbound links to see who is linking to your site, and why? Chances are, they do, too.
Don't use any old link. Link to them from a well-considered, thoughtful, in-depth piece about a current industry talking point. Because when they follow the link back, they're more likely to engage with you if you've given them something to interesting to engage with. They also may feel they owe you something, as you have done something for them.
Consider what might make this person engage. Perhaps you stroke their ego a little. If you make them look good, chances are they'll want to highlight this fact to others. You could challenge their point of view, so they engage in a debate with you by responding back to you on their own site.
3. Start A Conversation
You could view #2 as one-off tactic, but it's more lucrative if you see it as part of an on-going process.
The world of SEO could be likened to a conversation that's been going on since 1995. The conversation now has many participants, many of whom cover exactly the same ground, however it's the unique, authoritative voices that stand out.
Chances are, their "voice" didn't just happen overnight. They participate constantly, and have done so for years. They get in-front of the industry, regularly, wherever the industry happens to be looking.
They also tend to lead it. If you want a lot of links that you never have to ask for, then it's a good idea to first give people something really worth linking to, and talking about, on a regular basis.
4. Get A Story
But what happens to the people who run a sales catalog? A brochure website? No one links to such sites anymore!
The strategy I'm outlining is about networks of people, as opposed to link networks that have little value, besides ranking factors. Consider Zappos. Consider the founder, Nick Swinmurn. People talk about the company - and link to it. People talk about the founder and CEO - and link up.
Few people link to the shoes, and even if they did, that's not a make or break for Zappos. The story is the interesting thing, and that resonates through different media, and results in links. Real links - the kind of links people travel down and end up customers.
Ok, so Zappos were very successful. Silicon Valley loves talking about successful tech companies. But this can happen in small, local niches, too. So long as you have a memorable, compelling story, that you hussle, links - real links - will follow. Do you give to local charities? Have you created interesting processes that small business sites may like to profile? It might not relate directly to what you're trying to sell, but it does result in building up real networks of people.
5. Carry On The Conversation
Link building is a tactic. We can buy links. We can automate links. We can spam it up!
But when Google changes the game, as they often do, you're not left with much if your entire strategy is based on technical hacks. Perhaps the richer, more secure long-term approach is to seek another level of value from your links. Go back to the original idea of a link, which was a connection between two people. Someone saying "hey this is interesting!". Once someone does that, we can engage in a conversation, and it can build from there.
Google can't kill that.
If you're interesting, and other people find you interesting, then ranking is no longer a make or break position.
Published: June 16, 2011 by
A Reader
in
marketing