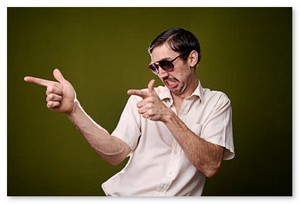 Derek Powazek - no, I hadn't heard of him until today either - is, according to the blurb: "one of the top 40 "Industry Influencers" of 2007 by Folio Magazine..has worked the web since 1995 at pioneering sites like HotWired, Blogger, and Technorati".
A designer, apparently.
He doesn't care much for SEO.
The fact we may never heard of him just goes to show that the web is a big place. It is quite common that the rockstars in one niche can be unknowns in an adjacent niche. It is therefore no surprise that those who spend a lot of time in separate niches may not understand each other particularly well.
Derek understands little about the value of SEO.
Read the anti-SEO rant entitled "Spammers, Evildoers, and Opportunists".
I'm sure you'll find it amusing.
If Someone Charges You For SEO, You Have Been Conned
Search Engine Optimization is not a legitimate form of marketing. It should not be undertaken by people with brains or souls. If someone charges you for SEO, you have been conned
Uh-huh.
Well, I'm sure some SEO is undertaken by people without either brains or soul, but the same could be said of web designers.
It is true to say some web designers are clueless about the web, seemingly only interested in crafting pretty pictures. In Flash. They charge clients a fortune for it, and have no idea whether their self-indulgent nonsense will add any value to the clients business. It's barely even a consideration.
That's rather misleading. It might be true, but it's still misleading. Some web designers, just like some SEOs, are pointless. That doesn't mean all SEOs or web designers are pointless. Unfortunately, Derek thinks the entire SEO industry is a con.
Judging an entire industry by what some bad actors do is wrong.
And so, like the goat sacrificers and snake oil salesmen before them, a new breed of con man was born, the Search Engine Optimizer. These scammers claim that they can dance the magic dance that will please the Google Gods and make eyeballs rain down upon you.
Do. Not. Trust. Them
Yawn.
Of course a good SEO can "make eyeballs rain down on you". We do it every day. A good SEO can take a site where a "designer" has indluged in what loosely passes for an adult version of finger painting and get it ranking under appropriate keywords. SEOs do this by identifying keyword traffic (demand) and ensuring pages (supply) meet that demand. We untangle messes made by designers and developers and we implement web marketing strategy where there was none.
Whilst Derek is wrong about SEO on a number of levels, he says some stuff I agree with, stuff we often talk about on this blog.
Make something great. Tell people about it. Do it again.

That's it. Make something you believe in. Make it beautiful, confident, and real. Sweat every detail. If it's not getting traffic, maybe it wasn't good enough. Try again.

Then tell people about it. Start with your friends. Send them a personal note – not an automated blast from a spam cannon. Post it to your Twitter feed, email list, personal blog. (Don't have those things? Start them.) Tell people who give a shit – not strangers. Tell them why it matters to you. Find the places where your community congregates online and participate. Connect with them like a person, not a corporation. Engage. Be real. Then do it again. And again. You'll build a reputation for doing good work, meaning what you say, and building trust."
Seth Godin says the same thing. We often quote Seth.
But the problem with "making something great" is that the search engine may not think it is great. This is because a search engine is stupid. It's a machine. And like any stupid machine, it may not recognize greatness, especially if it can't crawl it, or if that greatness doesn't exist in a form it finds palatable.
SEOs help make sure the search engines don't miss greatness.
Derek appears to think SEO is mostly about crawling and hacking. Competent SEOs know that crawling is one part of the puzzle, and most have never hacked to get links. SEO is mostly about the publishing and marketing strategy that comes out of keyword research. Most designers don't understand this concept and therefore misinterpret how SEO works.
As for publishing content for Google, then - yes - guilty as charged, By making content Google wants, Google rewards you. Don't, and it won't. Content can satisfy both Google and humans. It is false to suggest content that appeals to Googles algorithms isn't what humans want to read. Google wouldn't be a business if their results didn't satisfy humans.
Web Design Is Mostly Unimportant ;)
Here's a quote Derek makes lower down in his comments section:
Also, I didn't call SEO people "fucktards" because that wouldn't be fair to actual retarded people.
For a "influencer", the guy sure is mature.
Let's try that with web designers to see if it is any less vacuous:
Also, I didn't call web designer people "fucktards" because that wouldn't be fair to actual retarded people."
Nope. Still vacuous.
I have nothing against the web design community. I use web designers - good ones - who understand a little about SEO. Good designers who understand a little about SEO are as rare as hens teeth. And even though they do understand a little about SEO, that still leaves the real SEO work to do, which is identification of traffic streams, content creation and link building.
SEO plays, like eHow and Mahalo, attract hundreds of millions in venture capital funding. SEO play About.com sold to the NYTimes for $410 million. Microsoft and Yahoo employ inhouse SEOs to advise their staff and maximize traffic to their content.
Meanwhile, content management systems are free. Great looking templates are cheap. The worlds most valuable web properties don't use "designery" design. They place most emphasis on function. The web is evolving from the crafted, fixed brochure into a platform. Perhaps custom design just isn't as important as it once was. Design has become commodity.
Now, I know that web design is about a lot more than making pretty pictures. It's about structure and interaction. Defining design narrowly as "picture making" is just as stupid as Derek's implied narrow definition that SEO is about crawling, hacking and generating low quality content intended only for Google. Such narrow definitions can lead to false assumptions and conclusions.
Danny Sullivan has also dissected Dereks rant.
Published: October 14, 2009 by
A Reader
in
marketing