Join a Community of SEO Experts
You'll be part of an exclusive community made up of hundreds of the best SEOs in the world, who are serious about ranking their websites at the top of the search results.
Our discussion forum is open 24/7. And because we limit our membership size to 1,000 members and charge for admission...
We eliminate the pollution that is common at public SEO forums. There are no signature tags hyping garbage affiliate offers, no threads by product owners offering fake reviews of their own products, and no 5 year old advice from a guy who learned SEO back then and has failed to keep up with the marketplace. You get fresh advice and feedback based on what is working in the marketplace right now.
In addition to the great answers and incredible advice offered by our members and moderators, limiting membership also ensures we have enough time to directly participate and answer your questions. I personally have made over 25,000 contributions to our forums. And some of our other top members have made thousands of posts as well.
Our community forum terms of service strictly prohibits members from publicly mentioning sites and techniques mentioned in the forums unless they get permission from those who offered the tips. This privacy helps ensure fresh marketing techniques we share keep you ahead of the competition.
"I've only been learning SEO for the past 3 months. And I've never gotten so much value out of the measly bucks I spent. I am now ranked top 10 for 3 of my most competitive, high volume, money keywords in a very competitive niche. The other leading SEO company I'm also a member of PALES in comparison to the value I've received from your site, in fact I'm considering un-subscring from them soon." - Dr. Rhen Kellogs
Get Key Insights Needed to Build YOUR Business
Yes, there are many SEO forums however many of them are riddled with wrong or inaccurate information. And many top SEO professionals no longer spend time on forums. That is not the case with the SEO book community forum. The caliber and quantity of top seo experts who are ready to answer any question sets the forum apart. Let alone the personal effort Aaron invests ensuring that no question goes unanswered. - Khalid Saleh
Sample Categories
Here is just a sample of some of the SEO categories highlighted in our community forums.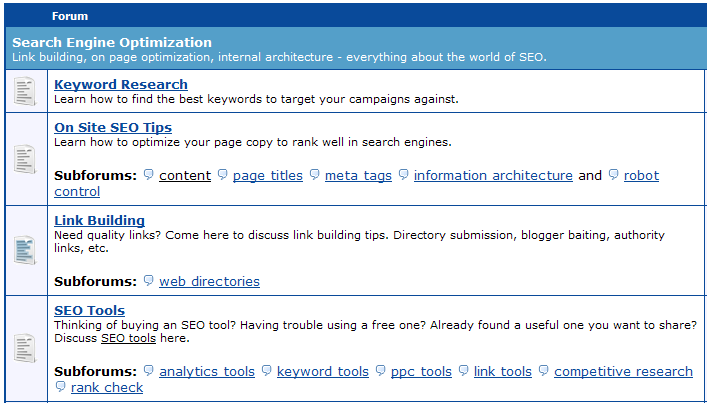 "It's great to be an SEOBook member again...bouncing around the forums this morning and at virtually every stop, I find something of value. you've built an amazing community" - Paul
Learn More Than SEO
Develop your website into a leading web property
Like our training program, our forums discuss vital webmaster topics beyond the field of SEO, including
site design, web programming, content management systems, & hosting
domaining, blogging & community building
analytics & website monetization strategies
pay per click marketing (Google AdWords, Yahoo! Search Marketing, Microsoft adCenter, etc.)
traditional marketing topics like advertising, branding, and public relations
Our members love the diversity of member background and depth of discussion.
I'm a long time reader of Aaron's blog, but I held out before joining the community. After being a member for only a couple hours I've realized that was a huge mistake. I think I've learned enough so far to justify a year's worth of membership fees. - John Wesley
Recently Discussed

Here are some recent threads from our exclusive SEO Community forums.
"I am new to SEOBook but have already gained so much value from the site. I can't tell you how much I appreciate the ability to bounce ideas off of leading experts such as Aaron and others and receive answers as fast as I have. Thank you very much. I can see that SEO Book will be vital to my business." - Marc Flood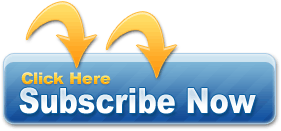 How Much is a #1 Google Ranking Worth to Your Business?