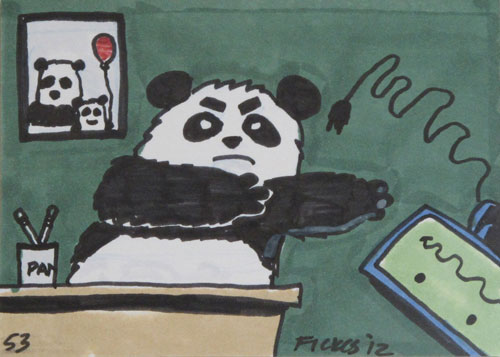 Ranking well for our chosen keywords involves putting in a lot of effort up front, with no guarantee of ranking, or reward.
Even if we do attain rankings, and even if do get rewarded, there is no guarantee this situation will last. And this state of flux, for many seos, is only likely to get worse as Google advises that updates will be "jarring and julting for a while"
Even more reason to make every visitor count.
If we can extract higher value from each visitor, by converting them from visitor to customers, and from short term customers to long term customers, then our businesses are less vulnerable to Google's whims. We don't need to be as focused on acquiring new visitors.
There is great value to be had in optimizing the entire marketing chain.
Hunting For Customers Vs Keeping Customers
It comes down to cost.
According to a Harvard Study a few years back, it can cost five times as much to acquire a new customer as it does to keeping a current customer happy. Of course, your mileage may vary, as whether it really costs five times as much, or three, or seven really depends what your cost structure.
However, this concept is an important one for search marketers, as it's reasonable to assume that the cost of acquiring customers, via keyword targeting, is rising as Google makes the marketing process of keyword targeting more expensive than it has been in the past. This trend is set to continue.
If the cost of customer acquisition is rising, it can make sense to look at optimizing the offer, the conversion rates and optimizing the value of existing customers.
Underlying Fundamentals
If you have something a lot of people desperately need, and there isn't much competition, it typically doesn't cost much to land those customers. They come to you. If you have something genuinely scarce, or even artificially scarce, people will line up.
The problem is that most businesses don't enjoy such demand. They must compete with other businesses offering similar products and services. So, if there is a scarcity issue, it's a scarcity of customers, not service and product providers.
However, by focusing on a specific niche, businesses can eliminate a lot of competition, and thereby reduce the marketing cost. For example, a furniture manufacturer could conceivably make furniture for a wide variety of customers, from commercial offices, to industry, to the home.
But if they narrowed their focus to, say, private jet fit-outs, they eliminate a lot of their competition. They'd also have to determine if that niche is lucrative, of course, but as you can see, it's a way of eliminating a lot of competition simply by adding focus and specialization.
By specializing, they are more likely to enjoy higher quality leads - i.e. leads that may result in a sale - than if they targeted broadly, as it is difficult to be all things to all people The cost of marketing to a broad target market can be higher, as can the level of competition in the search results pages, and the quality of leads can be lower.
Conversion Optimization
Once we're focused on our niche, and we've got targeted visitors coming in, how can we ensure fewer visitors are wasted?
Those who do a lot of PPC will be familiar with conversion optimization, and we'll dive deep into this fascinating area over the coming weeks, but it's a good concept for those new to SEO, and internet marketing in general, to keep at front of mind.
You've gone to a lot of trouble to get people to your site, so make sure they don't click back once they arrive!
Here's a great case study by a company called Conversion Rate Experts. It outlines how to structure pages to improve conversion rates. Whilst the findings are the result of testing and adaptation, and are specific to each business, there are a few few key lessons here:
Length of the page. In this case, a long page improved conversion rates by 30%. Of course, it's not a numbers game, more the fact that the longer page allowed more time to address objections and answer visitor questions.
As Conversion Rate Experts point out:
The media would have us believe that people no longer have any capacity to concentrate. In reality, you cannot have a page that's too long—only one that's too boring. In the case of Crazy Egg's home page, visitors wanted their many questions answered and that's what we delivered. (If you'd like more people to scroll down your long pages, see the guide we wrote on the topic.)"
It's best to experiment, to see what works best in your own situation, but, generally speaking, it pays to offer the visitor as much timely information as possible, as opposed to short copy if there is a analytical, need-oriented motivation. Short copy can work better if the customer is impulsive.
As we see in the Crazy Egg case study, by anticipating and addressing specific objections, and moving the customer closer to the point of sale, the webpage is doing the job of the salesperson. This is an area where SEO and PPC, linked with conversion rate optimization, can add a ton of value.
The second interesting point was they optimized the long-term value of the customer to the company by making a time-sensitive offer.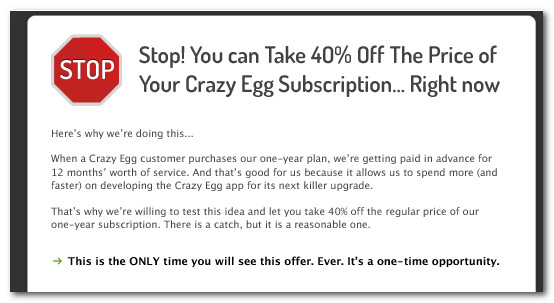 The one-time offer test illustrates another important principle of conversion optimization: Don't let the fear of a short-term loss stand in the way of a long-term gain
The offer they made turned a short-term customer into a long-term customer. If we have a lot of long term customers on our books, it can take some of the pressure off the need to constantly acquire new customers.
Optimize Everything
We engage in SEO because there are many similar sites.
The benefit of SEO is we can occupy premium real estate. If we appear high on the search result pages, we are more likely than our competitors to command the customers attention. But we stand to gain a lot more stability if we are not wholly reliant on occupying the top spots, and therefore less vulnerable to Google's whims.
Published: September 26, 2012 by
A Reader
in
marketing