Aug 16th
MSN Sponsoring more than Chicago SES Conference?
Why is this third site resolving to the MSN IP address? They could not have thought that it would be good PR...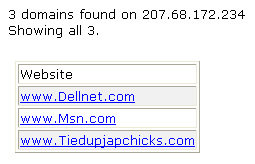 found in SEW forums
update: evidentally people are doing this to many other large companies too. just point your DNS details at their name servers. I still think its funny though.
Published: August 16, 2004
New to the site? Join for Free and get over $300 of free SEO software.



Once you set up your free account you can comment on our blog, and you are eligible to receive our search engine success SEO newsletter.
Already have an account? Login to share your opinions.
Over 100 training modules, covering topics like: keyword research, link building, site architecture, website monetization, pay per click ads, tracking results, and more.
An exclusive interactive community forum
Members only videos and tools
Additional bonuses - like data spreadsheets, and money saving tips